Welcome To Kingsway Greenhouse
Oshawa's Largest Independent Garden Centre
October Hours
October 9 Thanksgiving Monday 9 – 5
Sunday – Friday 9 – 5
Saturdays CLOSED
November Hours
Sunday – Thursday 9 – 5
Friday 9 – 4
Saturdays CLOSED
December Hours
Sunday – Thursday 9 – 5
Friday 9 – 4
Saturdays CLOSED
December 24 Christmas Eve 9 – 12 Noon
Greenhouse closed for season from December 25 – March 16
Re-opening March 17
Call or email us to arrange a parking lot pick-up or home delivery  – delivery price depends on quantity and location.
Welcome to Kingsway Greenhouse, Oshawa's largest, full-service, independent, family run garden centre.
We have been serving garden needs of the G.T.A. since 1996!
Join thousands of satisfied customers who travel miles to discover our common and unique selection of bedding plants, hanging baskets, patio containers, trees, flowering shrubs, roses, vines, perennials and much more. Our best advertising has always been through word-of-mouth. Ask around and see if you know someone who has been to our store!
Staffed by many helpful people who all take pride in assisting customers with their entire gardening needs, we are confident that anyone who has done business with us will tell you that Kingsway Greenhouse offers tremendous quality and service. We are a "retail grower" that produces thousands of quality hanging baskets and patio planter combinations that can ONLY be found at Kingsway Greenhouse.
Come find a beautiful new gardening idea or item today!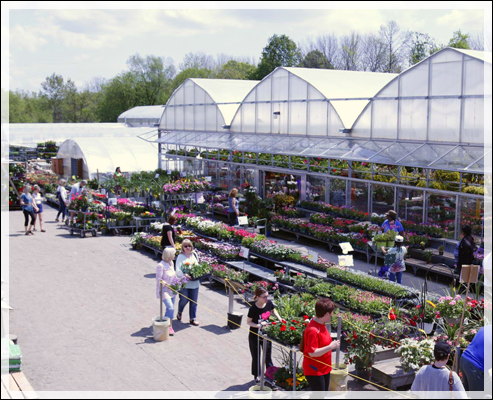 At Kingsway Greenhouse, our mission is to provide you with everything necessary to become an accomplished gardener. We aim to provide you with superior quality plant material that is the best choice for your unique landscape situation. To do this, we buy only the best plants and plugs and carefully nurture them to a finished product you're sure to be delighted with.
We provide our clients with healthy, quality, gorgeous plant materials, and we aspire to do whatever it takes to ensure your gardening success. At Kingsway Greenhouse we sell more than just plants and garden ornaments. We sell beauty, peace-of-mind, tranquility, privacy, fragrance, uniqueness, low-maintenance and easy-to-grow plants, backyard havens and front yard curb appeal.
Testimonials from our Lovely Customers
"Great greenhouse. Helpful staff. You can place special orders for certain plants. The owners are good, honest people. They sell good quality products. They also have a flower shop now called College Park Flowers which used to be a separate business but is now all in one place. The flower shop has beautiful flowers which usually last quite well."
"Always the best place to get healthy plants. I have never been disappointed with anything purchased here. Wonderful friendly staff."
"Love this place! Prices are fair. You can't beat the knowledge of the staff! Top notch."